About the Episode
An interview with Holly Schroeder. Holly is a Senior UX Researcher and passionate accessibility advocate who wants us all to get better at including everyone in our product design choices. She's also a recent contributor to a new UX book, 97 Things Every UX Practitioner Should Know.
We speak about a lot, including:
Her life as a UX researcher, the tension between business needs & user needs and the need to be pragmatic when finding a balance between the two
Her passion for making sure that we design our products with accessibility in mind, and how come we're still in a situation where people aren't thinking about accessibility as a matter of course
How only 3% of websites have been verified as accessible by the accessibility organisation WebAIM, and how we would feel if only 3% of buildings had ramps or 3% of pavements had dropped kerbs or curb cuts
Some of the worst offenders when talking about (lack of) accessible design, how people are failing to get even the simple things right, how it's not just about screen readers, and how accessibility overlays are just putting lipstick on a pig
Why we shouldn't be surprised that people aren't learning about accessibility when coding courses & boot camps don't even mention accessibility in passing
Whether it's fair enough for startups to make the choice to "go fast and break things" and ignore accessibility, why we might consider slowing things down, and whether this is all the fault of tiresome tech bros
The importance of including people with disabilities in user testing, but how accessibility is everyone's problem and how we shouldn't just rely on disabled people to do our homework for us
And much more!
Buy "97 Things Every UX Practitioner Should Know"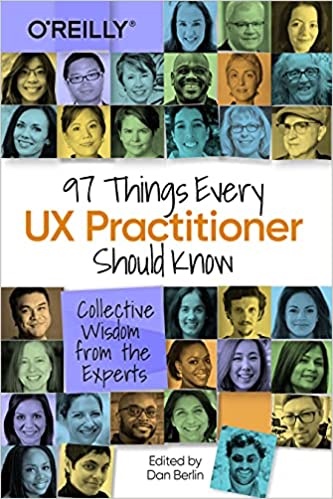 "Tap into the wisdom of experts to learn what every UX practitioner needs to know. With 97 short and extremely useful articles, you'll discover new approaches to old problems, pick up road-tested best practices, and hone your skills through sound advice."
Visit the book website or check it out on Amazon or Goodreads.
Check out Holly's extensive library of a11y resources
Holly has collated, and continues to maintain, an excellent list of accessibility resources. Check it out!
Contact Holly
You can find Holly on Twitter.