About the Episode
An interview with David Dylan Thomas. David is a product designer and self-taught expert in cognitive bias. He's now consulting with companies to help them make ethical product design decisions and is the author of "Design for Cognitive Bias", a book that aims to help us all understand the implicit biases that underpin our decision making when we design products.
We talk about a lot, including:
How he got into writing and consulting about cognitive biases in the first place, whether you need to go back to college to learn about this stuff and whether it's intimidating having your work reviewed by academic experts
Why we have cognitive biases, how our brains are constantly lying to us, and how we'd struggle to cope with having to make a trillion decisions a day without them
The importance of taking complicated scientific concepts back to a human level and making sure you can explain things like you would to a five-year-old
How cognitive biases can manifest themselves when we're designing products, the most common biases that we might come across, and why the framing bias is by far the most dangerous bias of all
Why it's sometimes important to insert speed bumps into our products rather than continuously trying to optimise for speedy decision making
Some of the ways to interrupt cognitive biases in product design, including the red team / blue team approach and the Black Mirror test
The importance of participatory design and giving the people most affected by bias the power to decide when something that affects them is actually ready to go
And much more!
Buy "Design For Cognitive Bias"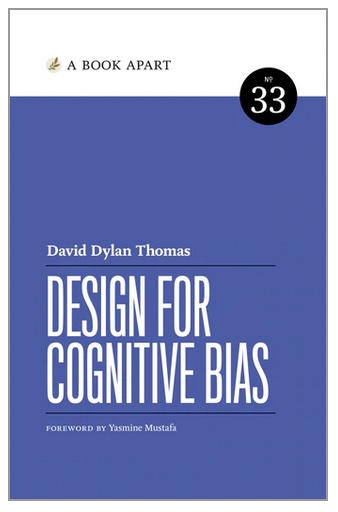 "We humans are messy, illogical creatures who like to imagine we're in control—but we blithely let our biases lead us astray. In Design for Cognitive Bias, David Dylan Thomas lays bare the irrational forces that shape our everyday decisions and, inevitably, inform the experiences we craft. "
Visit the book website or check it out on Goodreads.
Contact David
If you want to catch up with David, you can reach out to him at https://www.daviddylanthomas.com